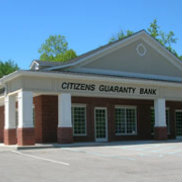 Our Story
Finding a bank that understands your personal financial needs can be especially challenging in today's world of institutionalized banking. Relationship based banking seems to be a thing of the past for many consumer-bank relationships. At Citizens Guaranty Bank we pride ourselves on developing deep, meaningful relationship with all of our customers. We strive to get to know you, and search for the best possible solution that meets your needs and exceed your expectations.
As a locally owned and operated bank, we at Citizens Guaranty Bank aim to be a community resource for your business and personal financial needs. We believe that living and working in the community in-turn enables the community to prosper to its fullest extent. By investing in our communities we can truly call ourselves A Real Community Bank.
At Citizens Guaranty Bank we are here to serve you, the customer, and the community you call home. So visit us today to start a more personal banking relationship. Whether you're starting a family, building a home, expanding your business, or looking for financial retirement advice, we are here for you.
Drop by, or contact us today at 606-723-2139. We look forward to doing business with you.