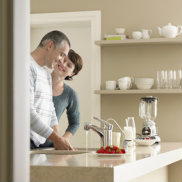 Citizens Choice Plus
This checking account lets you earn higher interest on higher balances, while allowing you to keep access to your money. You can make it more even powerful by adding CLUB benefits for just $4.99 per month.
Summary

Minimum balance $1,000*
$10 monthly minimum balance service charge
Interest paid on collected funds over $750**
Unlimited check writing
Free online banking***
Free mobile banking****
Monthly imaged eStatement AND/OR combined statement (upon request)
Free initial Visa® debit card available (for qualified applicants)
Add CLUB benefits for just $4.99 per month
Early closeout fee within 180 days of opening is $32.95
$1000.00 minimum to open

*Balance information: We use the daily balance method to calculate the interest on the account. This method applies a daily periodic rate to the principal in the account each day. You must maintain the minimum balance required for the account each day to obtain the disclosed annual percentage yield.

**Rate Information: This account is an interest bearing account. The interest rate and annual percentage yield will depend upon the daily balance in the account as shown on the Rate Chart. The interest rate and annual percentage yield may change. At our discretion, we may change the interest rate on the account daily. Interest begins to accrue no later than the business day we receive credit for the deposit of noncash items (for example, checks). Interest will be compounded monthly and will be credited to the account monthly.

***Note internet provider charges may apply.

****Cellular phone carrier charges may apply for internet and text messaging. Contact your provider for information regarding these charges.