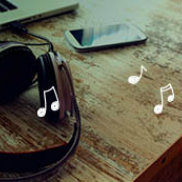 Kasasa Tunes
With Kasasa Tunes you get more than an awesome free checking account — you also earn monthly refunds on iTunes® Amazon.com® and Google Play®media! Download anything you like, from movies to music to the latest game or app.
Plus, we'll also refund your ATM fees* from anywhere around the country, not just here in the Bluegrass State! All we ask is that you do a few banking things that you probably already do, like use your debit card for purchases, use internet or mobile banking and receive e-statements. It's that easy!
Summary

Earn up to $10 every month in iTunes, Amazon.com and Google Play downloads*
Earn $10 in iTunes download rebates at sign up*
Nationwide ATM fee refunds*
No minimum balance to earn rewards
No monthly service fee
Free online banking*
Free mobile banking**
Free eStatements with images
Free initial Visa® debit card
Unlimited check writing
$25 minimum to open

*Note internet provider charges may apply.

**Cellular phone carrier charges may apply for internet and text messaging. Contact your provider for information regarding these charges.

It's easy to qualify

To get your rewards, just do the following each monthly qualification cycle:

Have at least 12 debit card purchases post and settle
Be enrolled and agree to receive eStatement notices
Be enrolled and log into online or mobile banking at least once per Monthly Qualification Cycle

If you miss a month, don't worry!

You still enjoy free checking AND there's no penalty for not qualifying in a given month. Plus you'll get right back to enjoying free iTunes, Amazon.com Goolge Play media and ATM fee refunds the next month you qualify.
*The minimum to open account is $25.00. You will be refunded up to $10.00 (which includes any applicable taxes) for iTunes®, Amazon.com® and or Google Play® purchases that post and settle to account during the first 60 days after you open account. Refunds will be credited to account on the last day of Statement Cycle in which refundable purchases were made. In addition, each Qualification Cycle, earns up to $10.00 in refunds of iTunes®, Amazon.com® and/or Google Play® purchases if qualifications are met during previous Monthly Qualification Cycle. Purchases must be made with debit card associated with your Kasasa Tunes account. Qualifying transactions must post and settle to account during Monthly Qualification Cycle. Transactions may take one or more banking days from date transaction was made to post and settle to account. The following activities do not count toward earning account rewards: ATM-processed transactions, transfers between accounts and debit-card transactions processed by merchants and received by Citizens Guaranty Bank as ATM transactions. "Monthly Qualification Cycle" means a period beginning one day prior to the first day of the current Statement Cycle through one day prior to the close of the current Statement Cycle. "Statement Cycle" means the period of time for which Citizens Guaranty Bank provides a summary of the financial activities and transactions that post and settle to the accountholder's account. See Miscellaneous Fee Schedule for fees that may apply to this account. Domestic ATM fees incurred during Qualification Cycle will be reimbursed if qualifications are met within Monthly Qualification Cycle. iTunes® is registered trademark of Apple, Inc.® and Amazon.com® is a registered trademark of Amazon Inc.® and Google Play® is a registered trademark of Google Inc.®. Apple Inc.®, Amazon Inc.® and Google, Inc.® are not participants in or sponsors of this program. Nationwide and Domestic ATM fees are fees incurred within the United States of America. ATM receipt must be presented for reimbursement of an individual ATM fee of $5.00 or higher. A limit of one (1) Kasasa Product per primary account holder's social security number.