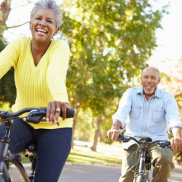 Certificates of Deposit (CDs)
A CD is a great way to guarantee earnings without high risk. Citizens Guaranty bank offers competitive fixed interest rates and a variety of terms to choose from.
Plus, your money is FDIC-insured to the maximum permitted by law. Open one with as little as $500 and gain peace of mind with this great savings vehicle.
Summary

Guaranteed rates for guaranteed returns*
Terms from 91 days to 5 years
Free online banking**
Free mobile banking***
Combined statement (upon request)
Penalties apply for early withdrawal
CDs automatically renew at maturity
$500 minimum to open

*Rate Information: This account is an interest bearing account. The interest rate and annual percentage yield may change if account is automatically renewed. Interest begins to accrue no later than the business day we receive credit for the deposit of noncash items (for example, checks)

**Note internet provider charges may apply.

***Cellular phone carrier charges may apply for internet and text messaging. Contact your provider for information regarding these charges.